Can you build
the mightiest harem ?
Hentai Heroes is a free, addictive, RPG, browser game featuring the most perverted stories with your favorite girls from the manga universe, beloved comic books, popular games, and your wildest fantasies! All the girls are horny, insatiable, and waiting for you to be their Hero!
When you embark on this quest, you'll travel a fantastic world where you must charm its lovely inhabitants and grow your own Harem. You will defeat other players and the Sex Champions with your sexual prowess! You'll get rewards by joining forces with other Heroes and each month you will have 4 arousing events to complete!
The Haremverse is made of wet dreams and kinky hentai fantasies. Just come inside…
Also playable on Nutaku and Eroges.
Patch Notes Week#8
Villians
Donatien will receive Tier 3 at level 260
 Tier 3 Donatien will cap at level 400

 Valicta has joined the Haremverse as a drop from Tier 3 Donatien
Valicta
New Features 
Push Notifications 

Players who allow push notification will be able to follow the latest news and features in the Haremverse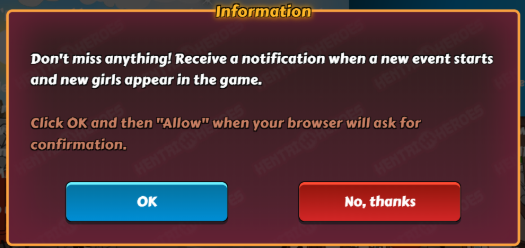 Class rebalance 
Charm class ability

The Charm class ability "Double defense" will now last 2 rounds instead of 1.
If the ability is triggered in two rounds one after another, it will stack and the defense will be x4.